Surrey Carpets - Supplied & Fitted
At Surrey Carpet Fitting we're able to uplift and remove old carpets free of charge and make room for your brand new top grade flooring choice. We aim to make sure that purchasing your new wool carpets or floor vinyl is as simple and straightforward as possible. It's this dedication to our customers that means we have an unrivalled reputation as one of Surrey's leading suppliers of wool and vinyl flooring. We pride ourselves on our traditional face-to-face service where we're able to bring a range of carpet and vinyl samples to your home or business premises to browse, feel and choose from – making it as convenient for you as possible. Our range of carpets and vinyl are all hard wearing so you can be assured that your flooring will last you for many years to come.
Estimating service

Considering a new floor is a big investment which you'll want to make sure the right choice is made during the initial planning stages. At Surrey Carpet Fitting we're able to guide you through the various options available to help you make the right decision.

If you've already decided on the type of flooring you'd like then we offer a free estimating service to give you a good idea on how much it'll cost to supply and install your new carpet. If you have already purchased your carpets and just need them fitted then we also offer a fitting-only service. Prices for this will vary depending to the type of carpets you'd like to have fitted and any other services we provide for you.

Our estimating service is free. Once you've selected a carpet, underlay, any accessories and additional services you'll need such as removal of your old carpet, we'll arrange a suitable time for our flooring estimator to visit your home to measure up.

If you're able to supply us with the room measurements then we can give you a guide price based on your own measurements, however the exact price estimate for your flooring and any fitting charges will be based on a site survey and the measurements taken by our onsite estimator. Our estimators are able visit your home at a convenient time to measure your rooms, and provide advice on underlay and any preparatory work required to ensure your new carpets look their best.

Our estimator will measure the areas and provide you a few price options for the most cost-effective way of fitting the carpet and any other options available.

Please note that while our estimate aims to be accurate, we can't foresee every issue until fitting has begun and the existing flooring has been removed. Additional charges may be necessary, but we will of course discuss these with you before proceeding.

Fitting your flooring

Once your carpets have been delivered to us from our manufacturers, we'll arrange for one of our team of approved fitters to come and lay your new carpet. We're able to give you an estimated date when you place your order with us however each type of carpet varies depending on the manufacturer's availability.

Getting your room ready for fitting

It is advised to make some preparations before your carpet fitter arrives to fit your flooring. Please move any furniture and remove any old flooring to leave the room clear and ready for the fitting. If you require assistance in moving large furniture then please discuss this with the carpet estimator so we can ensure the right precautions are taken on the day of the installation.

What to expect on fitting day

You will need to be present on the day of the installation so that our carpet fitter can discuss your requirements and raise any unforeseen issues.

Our fitters will prepare your sub-floor as necessary and lay your new floor so that it's just right. When they've finished, they'll remove any waste including your old flooring if you've booked the disposal service. They'll leave the room looking tidy, so you can start enjoying your beautiful new floor.
Carpet Types Available
A carpet consists of an upper layer known as a 'pile' which is attached to a backing. The pile is generally made from either wool or a man-made fibre such as polypropylene, nylon or polyester and usually consists of twisted or looped tufts which are often heat-treated to maintain their structure.
Here's some of the more popular styles available, however if there's a particular type of carpet you require then please speak to a member of staff.
Textured Plush Twist Carpets

- Most decoratively versatile cut-pile carpets

- Textured surface helps hide footprints and vacuum marks

- Adds casual beauty to any room

- Looks great between vacuuming

- Preferred style for busy households

Saxony Twist Carpets

- Refined cut-pile surface

- Luxuriously smooth, soft finish

- Beautiful with traditional interiors

- Adds distinctive elegance to any room and ideal for living and dining rooms

- Shows subtle highlights and accents of colour

Berber Loop-Pile Carpets

- A wool-like look and rugged loop surface

- Natural, hand-crafted appearance created a warm, personal atmosphere

- Tight loop texture helps hide footprints and vacuum marks

- Subtle patterns fit a variety of room styles

- Ideal choice for contemporary or country / cottage furnishings

Berber Cut-Pile Carpets

- A new berber look with all the colour choice of a traditional loop berber

- Great plush feel of thick, cut pile carpet

- Beautifully crafted and coloured yarns add personality to your room

- Very versatile decoratively ideal for casual rooms, children's rooms, etc

- Subtle colour flecks help hide soil that might appear between cleaning

Cut / Loop Carpets

- Carved definition with cut-and-loop pile

- Accent colours spice up floor surfaces

- Multicolour effects hide soil and stains

- Looks great between vacuuming

- Choose from soft tones to bolder colour combinations

Commercial Loop Carpet

- Versatile styles blend comfortably with any décor

- Durable long-wearing surface pile engineered for high traffic areas

- Vast range of colour choices suitable for professional and practical installs

- Textured surfaces provide subtle highlights
Carpet Colours Available
We supply a vast range of carpet colours, textures and materials from a large number of suppliers. When carrying out a carpet survey we'll be able to show you a range of carpet samples for you to choose from.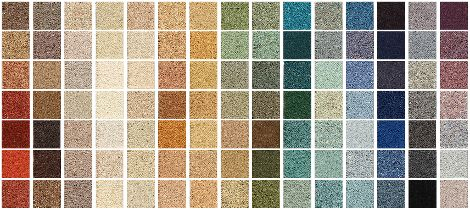 Carpet Manufacturers
Here's some of our carpet manufactures which we use. If there's a specific brand name which you'd like us to use for your carpet then please let us know.
Photos, Ideas & Product Gallery
Please see below for a range of photos which should help illustrate how some of the various carpet flooring options look when in situ. If you require more photos or close-up photos to help you make your decision then please feel free to contact us where a member of our team will be happy to help you with your enquiry.